When it comes to taking care of a child, mothers, and fathers face the future with a series of myths. Some of these well-known myths are real, but another part remains just myths.
Pregnancy and parenting are surely the hot topics on which everyone has something or the other to dole out advices on.
Here are some widely popular baby care myths busted with actual explanation. This is an attempt to segregate wheat from the chaff.
Myth No: 1- A Kaala Tikka wards off evil eye.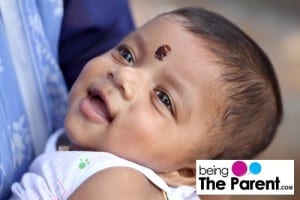 Fact-Sounds like true is it? Well, if there is evil, surely God would be there too. And if God is there, He will protect your baby from all evils. This myth holds no relevance and is discarded by many progressive families.
Myth No: 2- Oil massages are "Old"
Fact-Massages help in enhancing blood circulation and they also nourish the baby's skin. According to doctors, a warm water bath after a massage can also help the baby sleep soundly.
Myth No: 3- Nursing a baby soon after birth helps in bonding
Fact-Though advised, but women who have a C-section or babies who straight go to the nursery need not take this too hard. A baby-mother relationship will eventually develop and a few hours or days of separation is not going to hamper it.
Read more: http://www.beingtheparent.com/top-15-baby-care-myths/